~ Sydney residents ~
Welcome to the delicious selection of our Ready to Drink Range mixed by our Experienced Bartenders from BarBae.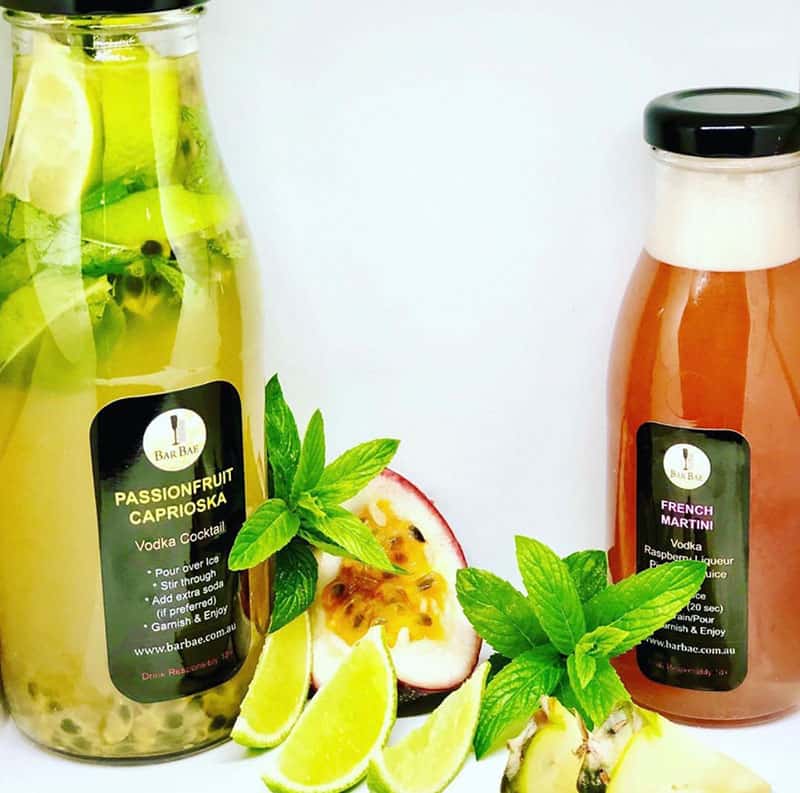 Made to Order with fresh ingredients
(best consumed within 24-48 hours, with some up to 5 days)
Spoil yourself or that special someone with a little something indulgent just because.

Delivered to your door, packaged professionally, labelled with instructions and with garnishes to suit.

As a little something extra, we include a quality disposable cup for you to enjoy your cocktails.
Enquire about our Weekly Signature Cocktails – ranging from delicious creamy dessert mixtures to refreshing lychee flavoured creations.
Our Cocktail Artist Simon is always innovating and bringing new flavours for you to enjoy so stay posted on our social media pages and Get in Touch.
When you can't go out for a Cocktail, let us bring the 'Cocktails To You'.
Strictly Singles
Delicious and made to order, our Full Strength Cocktails are made with quality ingredients. 
This selection is only available in a single serve, but definitely too good to stop at one!
Should I Share?
These household favourites come in a larger bottle with 2-3 serves of the Mojito and Caprioska.
The Watermelon Cosmopolitan and French Martini are traditionally served in a Martini style cocktail glass and serve 2.
These are suitable for you to either share with someone, or enough for yourself to keep you happy, hydrated and satisfied.
(note these four selections are also available as Single Serves)
Strictly Single Cocktails are exclusively made with quality ingredients and are best enjoyed as a single cocktail.
Share Options serve up to 3 servings (depending on the size of your glass) and are a great option to enjoy with friends.
COCKTAILS TO GO DELIVERY
(please note, no deliveries on Sundays)
~ Delivery Fee is $9.95 for locations within a 20 km radius from 2153 with a minimum $80 order ~
CHECK HERE if your postcode is in the 20 km radius.
ORDER HERE if your postcode is in within 20 km – 40 km radius.